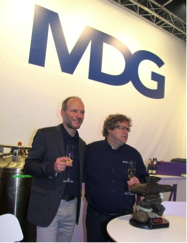 At precisely 4pm on Thursday 22 March, in front of a comprehensive collection of the press, a celebratory photo of the MDG team was emailed from the MDG headquarters in Canada to Heinz and Sabine Siller of cast C. ADOLPH & RST DISTRIBUTION as they stood on the MDG stand at Prolight+Sound. The photo showed the staff holding an Inukshuk, a Canadian monument made of unworked stones which represents the energy of stone in a human image, traditionally used by the Inuit for communication and survival. The message read: "MDG is proud and honoured to offer this Inukshuk to cast C. ADOLPH & RST DISTRIBUTION for our 20 years of partnership and many more to come!"

That same Inukshuk, having been transported in hand-luggage from Montreal to Frankfurt, was then presented on the stand to Heinz Siller by MDG's Martin Michaud. Michaud explained that, "In modern times, the Inukshuk has become a symbol of brotherhood, mutual aid and solidarity which are precisely those qualities shared by our two companies. It is said the Inukshuk will help the one who receives it to always make the right decision and choose the right path in life. This has certainly proved true in our case as MDG obviously took the right decision to appoint cast C. ADOLPH & RST DISTRIBUTION as our distributor all those years ago. Since then the relationship has blossomed into a valued and extremely successful long term association that means a lot to both companies."

cast C. ADOLPH & RST DISTRIBUTION returned the compliment with the presentation of a MDG-branded cake, and champagne with which to toast the occasion.

Prolight+Sound proved extremely busy for MDG with theONE and the ICE FOG Q undergoing constant demonstration and a new product, theFAN, released specifically for the show. theFAN is a compact, digital, fully DMX/RDM stand-alone unit which offers a universal switching power supply, low power consumption and a choice of mounting options for on-stage and in-truss use. The result is a versatile, truly universal, free-standing unit that can be partnered with MDG generators or used independently.