MDG, the leading manufacturer of premiere fog, haze and low fog generators, celebrated its 35th anniversary at Prolight+Sound, Frankfurt with the release of three new fog generators.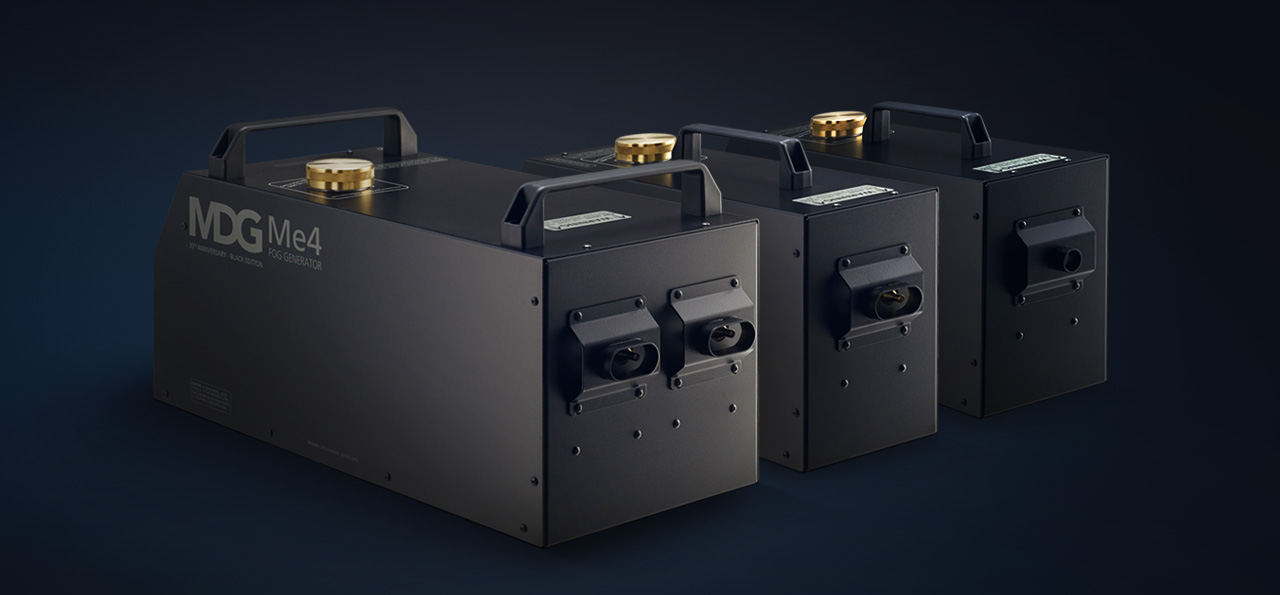 The Me Series has been designed as the next stage in MDG's evolution of fog and represents a new family of generators with a higher degree of controllability and a powerful output from a compact chassis.
Me1 is the smallest of the Me family with a single nozzle output that can produce up to 100m3 (3,521 ft3) of fog per minute. It is unique in offering a MAX 3000 configuration setting.
Me2 is the powerful twin of the Me1, housed in the same size chassis but with twice the power and a dual output of 200m3 (7,063 ft3) per minute.
Me4's powerful quadruple output produces up to 400m3 (14,126 ft3) of fog per minute and is the ideal generator for applications requiring seriously high quantities of fog.
All members of the Me Series benefit from a 1% - 100% variable fog output, a 100% duty cycle and MDG's famous Automatic Purging System™ (APS™). Numerous control options are on-board as standard and include 3 standard USITT DMX512 channels, XLR-5 connectors, a 4-button LCD user interface and RDM compliancy.
Having served the entertainment, industrial, fire-fighting and military markets since 1980, MDG has, throughout its history, developed the world-famous MAX Series of fog generators, the ATMOSPHERE haze generator, winner of LDI's Best Lighting Product in 1997, and the award-winning theONE digital atmospheric generator, LDI's Best Debuting Product in 2010. These were followed in 2013 by the e-series range which brought increased efficiency and total electronic control to the product range. The newly released Me Series now takes its place in the prestigious line up, and continues to keep MDG at the forefront of atmospheric effects technology.
To mark its anniversary, MDG produced a limited number of celebratory "35th Anniversary Black Edition" branded Me fog generators which have already become collectors' items. "As soon as we announced the limited edition we were flooded with orders from our worldwide family of distributors who all wanted some of these special generators," says MDG CEO, Martin Michaud. "It was fantastic to have such an overwhelming and instantaneous response and to be able to share the fun and celebrate the occasion with our hard-working and loyal MDG Family."
MDG's anniversary was also marked by the launch of its brand new website which went live during the show and across all MDG's social networks. The new trilingual website can be found at www.mdgfog.com and, in addition to the full range of MDG products, also gives an insight into MDG's history with a comprehensive Museum of past MDG products, many of which are still in operation around the world.
MDG exhibited alongside its German distributors cast C.Adolph & RST Distribution GmbH who, like the visiting distributors and customers, were happy to celebrate 35 years with the world-renowned atmospheric effects specialists.
"I – and cast – are really happy and proud to have been able to participate in MDG's 35th anniversary during this year's Prolight & Sound," says cast C.Adolph & RST Distribution GmbH MD, Heinz Siller. "We have represented MDG in Germany for 23 of their 35 years now, after starting together with just one single product and developing the market together. With MDG's focus on reliability and continuous improvement we now have a wide range of high-end professional products with which to serve the market. 
"It was great to use Prolight+Sound as an international platform to release the new series of Fog generators and we are looking forward to celebrating more MDG anniversaries in the future. We would like to say thanks for their everlasting friendship and fruitful business relations."
More information on MDG and all its fog, haze and low fog generators can be found on the new website at www.mdgfog.com